Best Practices for Cemetery Lawn Maintenance
Grass in cemeteries is often neglected and, as a result, may be in poor condition with areas of erosion, bare spots, dense weeds, depressions, and headstone staining. Some of these problems are the result of pedestrian traffic runoff on compacted soils, steep slopes, competition from trees, poor soil fertility, or poor watering practices.
However, every cemetery is different and needs specific attention and the solution needed is primarily based on topography, the composition of the lawn, public use needs, and available funding. These best practices provide guidance that must be customized to each cemetery's specific and particular needs. 
Site Analysis:
The first step in dealing with any lawn is to test the soil fertility. This test will help determine the specific problems and will provide insight into what the soil's current issues are. EcoFert recommends a complete site analysis that inspects the condition of the landscape, reviews existing systems in place, and takes soil samples for testing. This allows us to determine the best injection system and soil amendment application for the facility.
Clean Up:
Weeds – A lawn can typically recover in time after removing the weeds. If the weeds are very thick you may need to treat them. Unlike residential lawns, where weeds are simply viewed as unattractive,  in a cemetery weeds cause other maintenance problems. Most noticeably the need to mow more often and results in increase of management costs.
Compacted Ground and Aeration – Compacted soil is a common problem in every lawn, but one that is often ignored in cemeteries. This leads to the decline in grass health and is often blamed on insects, diseases, nematodes, and improper watering or a lack of fertilization. Compaction is particularly a problem where there are fine, heavy textured clay soils. If left unmanaged thatch will build up and the lawn will suffer. 
Cool season grasses are best aerified in the fall while warm season grasses are best aerified in the late spring and summer, when they are actively growing. 
Drought – Soil moisture is critical for the success and well-being of grass, shrubs, and trees. EcoFert's site analysis will determine how best to provide your landscape with the best solutions to fulfill the need of providing a cost effective water treatment solution to ensure a healthy and sustainable landscape. 
Installation: 
Depending on the current setup at your facility we may recommend our team installing a customized injection system specifically designed to provide the nutrients your cemetery will need. This will ultimately offset many costs down the line as this system will provide efficiencies on providing specific amendments and water needs to the specific needs of each part of the landscape. 
The benefits of installing a system are as follows: 
Application of fertilizer is more measurable and precisely applied to areas of the landscape that need it. Which brings savings to the cost of the nutrients while also reducing the need for pesticides and herbicides.

Provides the ability to apply micronutrients and wetting agents that will help water used more efficiently and lower sodium and pH levels.

Efficiently fertilize what your property needs as opposed to what the soil is deemed to need.
Soil Amendments:
EcoFert Develops a specialized organic-based soil amendment protocol for each property, to assure proper nutrient uptake. This protocol is based around the initial assessment of the property and will help indicate the specific amount of nutrients your poetry needs to maintain a healthy long term lawn growth. 
The EcoFert Advantage
EcoFert provides landscape application and fertigation solutions to the most difficult landscape care problems. We uniquely combine the application advantages of fertigation delivery systems with the soil enhancing benefits of organic based amendments.
Our "Sole Source" programs include installation and maintenance of delivery systems, ongoing laboratory generated tests of property soil conditions, and monthly application of specially prescribed soil amendments. to create a healthy, safe, and sustainable landscape all year around for properties in Northern and Southern California.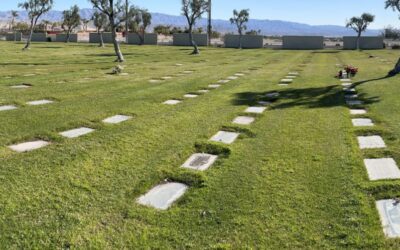 EcoFert, Inc. is excited to welcome Desert Memorial Park (Park) of the Palm Springs Cemetery District (District) as a new client. The Park, which opened in 1956, is an iconic location; being the last resting place of such luminaries as Frank Sinatra and Sonny...